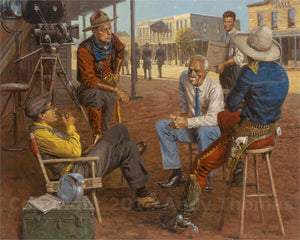 Wyatt Earp in Hollywood by Andy Thomas
Regular price
$35.00
$0.00
Wyatt Earp lived in Los Angeles in his later years and spent some time on the movie sets in Hollywood. He became good friends with William S. Hart and Tom Mix, early cowboy stars. The great director John Ford remembered Earp describing a gun fight to him and even drawing a diagram of the action. Ford used that description to film the fight in My Darling Clementine. The fight is now known as the Gunfight at the OK Corral. This painting depicts Earp describing the scene as Ford, Hart and  Mix listen. The movie front in the background is actually Fremont Street in Tombstone, as the Earp brothers and Doc Holliday, walk down to confront the cowboys.  Also listening is a young prop hand, who in his own film career, used Earp's mannerisms for his own portrayals of tough western characters.
Have a question regarding Signed & Numbered (S/N) or Artist Proof (AP)? Visit the FAQ page to learn more
Looking for a Large Format Canvas Giclee Reproduction of this image?  I can help!
Contact us for a free quote or more information. (Many of the images can be reproduced to larger sizes)
---
Share this Product
---
More from this collection