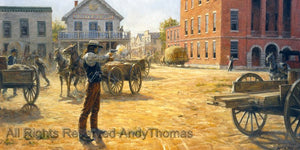 Wild Bill Hickok vs Dave Tutt by Andy Thomas
Regular price
$35.00
$0.00
Springfield, Missouri was the spot for Wild Bill Hickok and Dave Tutt to pace off to a gunfight over a pocket-watch and shoot Dave Tutt… receive the whole story with your print!
This image is available in print or canvas form. 
Andy Thomas graphically depicts the Springfield, Missouri, Public Square as it was at the time, based upon contemporary sketches, photographs and descriptions. Since the fight took place at about 6 pm on a hot July day, Hickok was probably dressed as shown- in shirtsleeves. He carries his Colt Navy pistols worn butts forward in the manner of time, which allowed him to use the reverse plains draw, or a cross draw. One can almost hear the creak of wagons iron rims, muffled hoof beats and the muted sound of people going about their business before the thunder of pistols halted all sound and movement for one brief moment before a crowd gathered.
Have a question regarding Signed & Numbered (S/N) or Artist Proof (AP)? Visit the FAQ page to learn more
Looking for a Large Format Canvas Giclee Reproduction of this image?  I can help!
Contact us for a free quote or more information. (Many of the images can be reproduced to larger sizes)
---
Share this Product
---
More from this collection