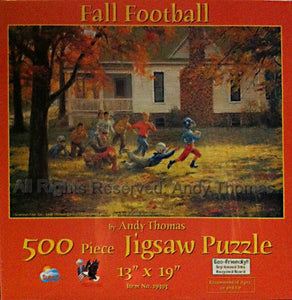 Fall Football 500 Piece Jigsaw Puzzle by Andy Thomas
Regular price
$16.99
$0.00
Fall Football at a neighbors house was great! Leaves rustling, knees skinned and starving kids for dinner! Great puzzle!
13″ x 19″ – 500 piece puzzle   This is a great puzzle and also a print! 
Who didn't play football when they were a kid?!
I hope you were lucky enough to grow up playing football in the side yard.  Watching the Super bowl on a big screen TV doesn't begin to match the joy of boys and girls playing a real game.
Actually, this painting is from a particular afternoon game with me and some of my life-long friends. That's me on one knee, shouting (I really wasn't much of an athlete). Bill, Craig and Jimmy are there, too.  The spirited runner is John Norris… average speed in a foot race, blazing speed when chased.  This was tackle, not touch, football and flying through the air for a block or a tackle was most of the fun.
Anyone ready to play?
---
Share this Product
---
More from this collection