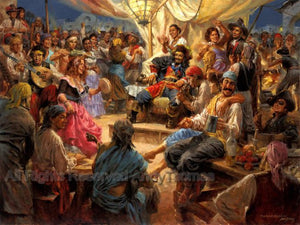 …And The Band Played On by Andy Thomas
Regular price
$35.00
$0.00
There's a party going on and the pirate has hosted all these musicians. They are all musicians that have passed-on but these 26 greats have added so much to Jazz, Rock, Blues, Pop, Country and so much more.
This image is available in print or canvas form.
This print contains 26 deceased musicians from music history;
Somewhere, a party's going on. There's a gentle ocean breeze passing through the palm trees and good food and drink is plentiful. Folks are having a good time.
Then, there's the music. Wonderful, rhythmic music, resonating across the island. The voices, clear as a china bell or earthy and gritty, blend into a surreal timbre. The instruments pour fourth delicious chords with improvised trails of harmony.

Inspired by the music, the revelers jump up to sing along, or dance a jig, or tell a good story.  All that music could ever be, it is at this party!
Have a question regarding Signed & Numbered (S/N) or Artist Proof (AP)? Visit the FAQ page to learn more
Looking for a Large Format Canvas Giclee Reproduction of this image?  We can help!
Contact us for a free quote or more information. (Many of the images can be reproduced to larger sizes)
---
Share this Product
---
More from this collection