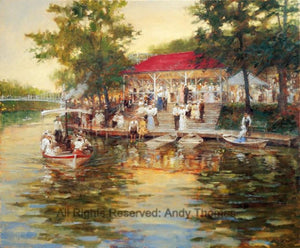 An Evening At Lakeside Notecards by Andy Thomas
Regular price
$14.99
$0.00
Most areas had a park like this between 1895 to the middle 1930's that drew weekend crowds of people for fun recreation.
Each set contains 10 cards and envelopes. 4″ x 6″ 
Lakeside Park was a recreational center for decades. From 1895 to the middle 1930's, it drew weekend crowds of up to 10,000 from four states. Today, all that is left are a few old foundations and the crumbling bridge for the electric trolley that connected Lakeside with the surrounding cities and towns.
 At Lakeside, people could enjoy the cool, shaded valley by swimming or boating on the lake. There was also a spectacular figure eight roller coaster, a dance pavilion, a movie theater, several restaurants, various shops and vendors and even a fine hotel.
A short walk on the swinging bridge that spanned the lake would bring you to the playground and the baseball field where a competitive semi-pro baseball league played.
 It was a wondrous place, still remembered fondly by those who were around to enjoy it. Incredibly, the entrance fee to the park was the price of your trolley ticket….five or ten cents.
---
Share this Product
---
More from this collection